Posted: December 27, 2021
Music Therapy For Older Adults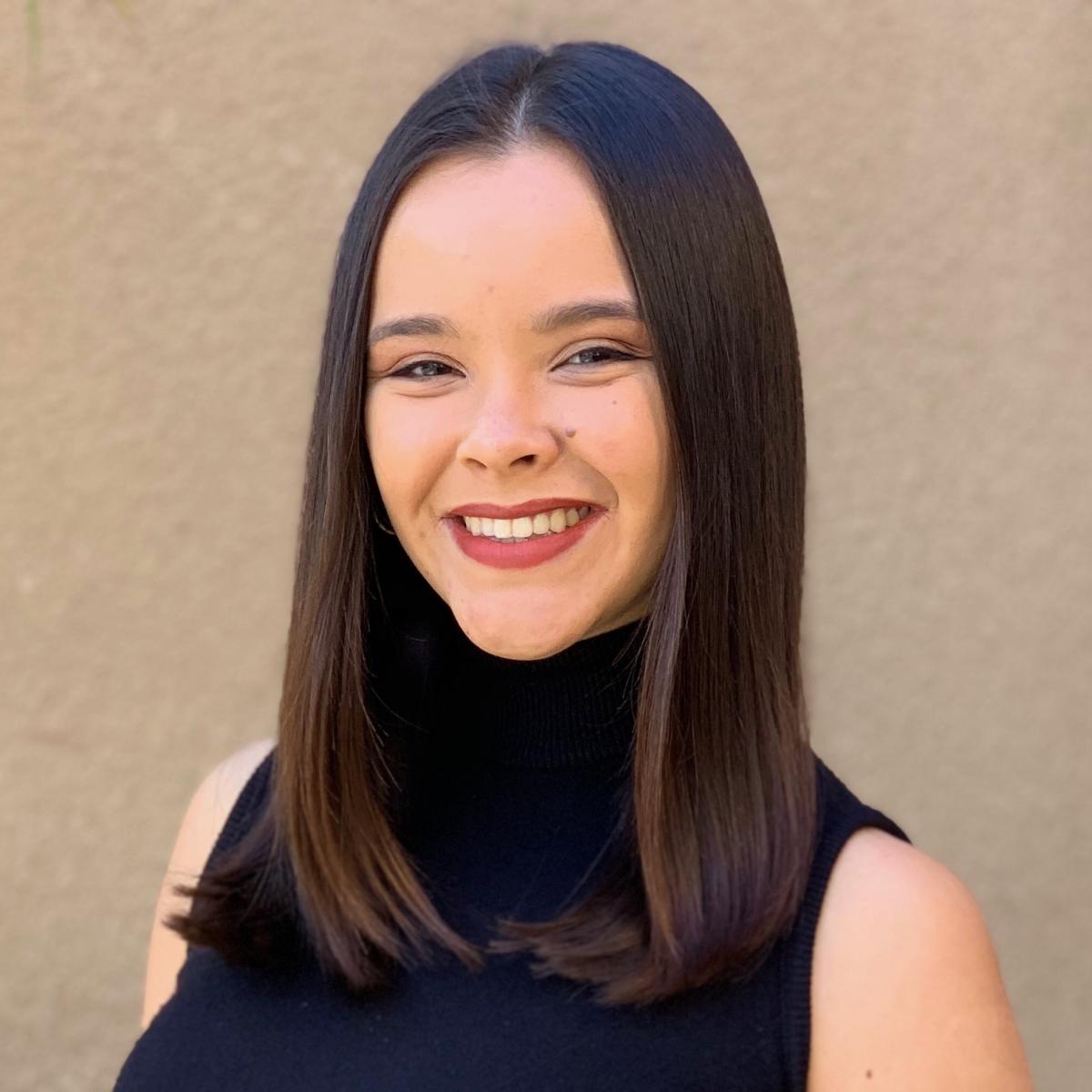 Meet Annela, a board-certified music therapist at MusicWorx, an organization that brings full spectrum music therapy to all age groups, from older adults to children. At a recent senior-focused event in San Diego's South Bay, she got seniors on their feet, dancing and making music. They each had an "egg shaker" in their hand and gleefully shook their instruments and sang to the music. While it all seems like fun and entertainment for retirees, Annela explains that there is substantial science and research on the benefits behind the activities she leads. Specialized training is required in order to provide music therapy.
To become a board-certified music therapist like Annela, one needs to complete 1,200 clinical hours, including a six-month internship. In addition, Annela holds a Bachelor of Music degree in Music Therapy. While facilities often bring in musicians to provide entertainment for their residents--and MusicWorx can certainly do that--music therapy has a deeper purpose beyond the enjoyment of entertainment. Music therapists specialize in the needs of the population they serve, including people who are aging, and are aware of their psychological, physiological, and behavioral health needs. Music-based interventions for older adults are intentionally developed to support health, and may incorporate joint movement, stretches, and even cognitive wellness. For example, when music therapist colleague Patricia plays a traditional Mexican song, "Cielito Lindo," she asks the participants to raise their hands when they hear "cielito lindo" in the lyrics. This subtle interaction is an example of training an older adult's attention and response to sounds, a mental exercise, and raising their arms, promoting joint movement and stretching. Activities that promote cognitive health are especially useful for memory care residents.
Music therapy is goal-directed, and sessions can be tailored to focus on goals such as improving mood, increasing socialization, and decreasing anxiety. Data collected by MusicWorx shows that patients in a hospital reported feeling less pain and anxiety after just twenty-three minutes of music therapy. Research studies show evidence that active music-making increases dopamine production in the brain1. Dopamine is a neurotransmitter that releases when the brain is expecting a reward. It influences mood elevation and is involved with feelings of pleasure.
Annela specializes in serving people living with Parkinson's disease and she sees cognitive and neurological health improvements in these patients from music therapy. "Parkinson's disease symptoms result from low dopamine levels," says Annela, "so we try to increase their dopamine through music therapy." Effective sessions can be as short as twenty-five minutes, or up to fifty minutes long.
In order to facilitate active music making for older adults of all skill levels, different instruments are provided for each participant. Egg shakers, which are hard, plastic egg-shaped instruments with rice or similar material that makes a rattling noise, are safely sealed, and can be used by almost anyone, even with just one hand. Some may be interested in trying out the two-handed paddle drum to keep the beat. Other participants enjoy simply twirling around a light scarf in the air, similar to a color guard dance performer. The key is to make music-making accessible to everyone.
Music therapy offers many research-backed benefits for older adults can be adapted to serve groups of almost any ability and can easily be brought into facilities to improve the well-being and socialization of residents.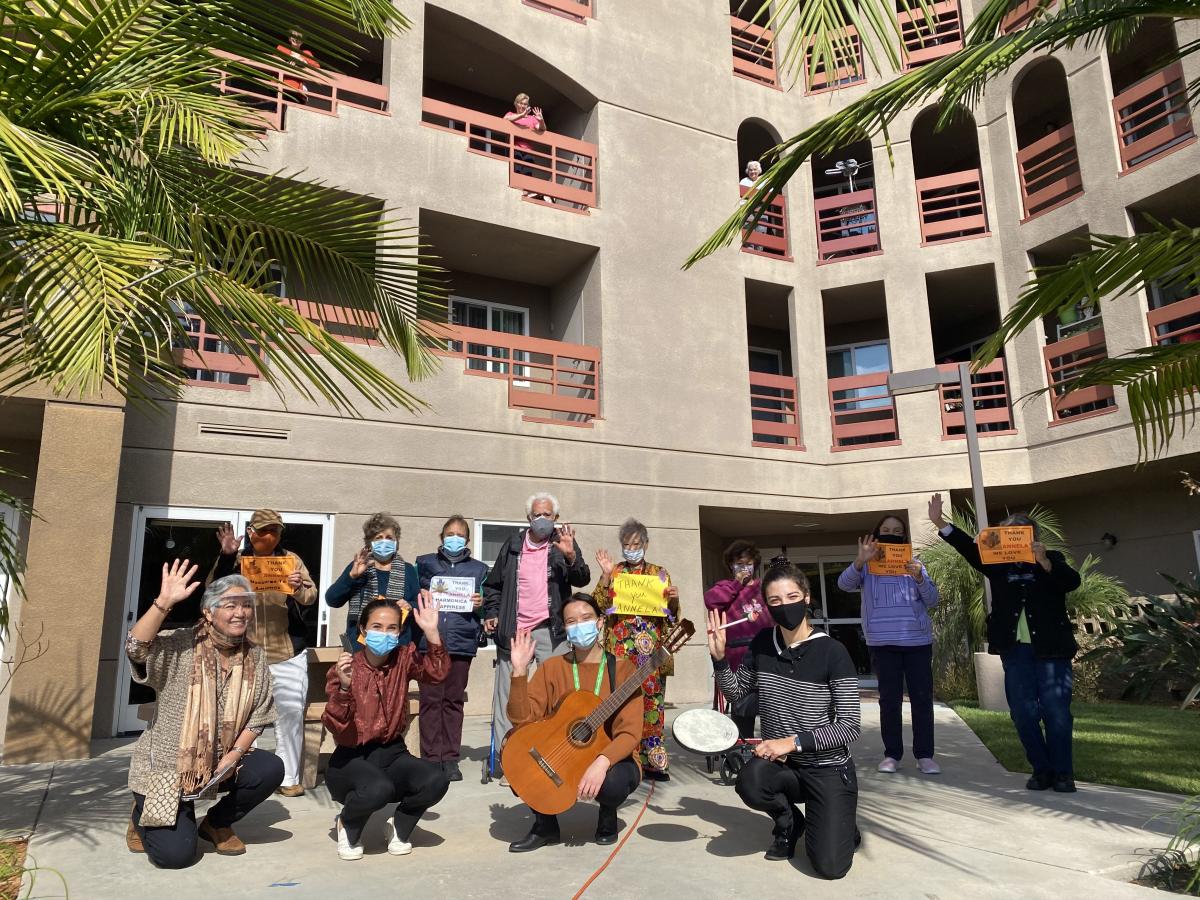 Above: Participants pose after a music therapy session.
1https://academic.oup.com/jmt/article-abstract/51/3/211/1024805?redirectedFrom=PDF