Posted: November 30, 2021
2021 Holiday Happenings for Older Adults in San Diego
Even sunny San Diego loves to get fun and festive in the winter season. There are many events throughout the county during the holiday months that older adults can enjoy! Whether you are an RCFE owner planning holiday activities for your residents or plan to take out your loved ones to enjoy the lights and cheer, San Diego offers a diverse selection of attractions, festivals, parades, and activities. Check out the list below for age-friendly events for the holidays.
Attractions
When: November 26, 2021 - January 2, 2022
Where: 15500 San Pasqual Valley Rd, Escondido, CA 92027
Website: https://sdzsafaripark.org/wild-holidays
Seasonal decorations, special wildlife experiences, and a festive atmosphere will greet visitors at the San Diego Zoo Safari Park as the Park spreads its own version of holiday cheer.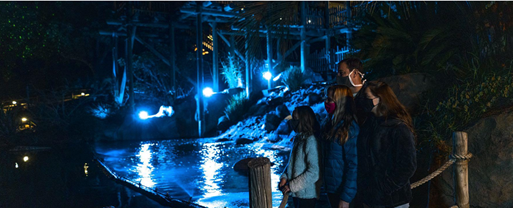 Parades
When: November 29 - December 24, 2021
Where: 750 Depot St, Campo, CA 91906
Website: https://www.psrm.org/
Once on board the North Pole Limited, Santa's elves will sing our favorite Christmas carols, read a popular Christmas story, and pass out cookies and hot chocolate to all passengers. The North Pole Limited will stop at Santa's Workshop to pick up Santa and Mrs. Claus who will visit with all passengers on the train on our way back to the Campo Depot.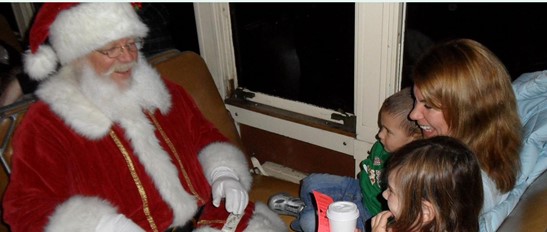 When: December 3-5, 2021
Where: 1549 El Prado, San Diego, CA 92101
Website: https://www.sandiego.gov/taste-of-december-nights
For more than 40 years, the San Diego community has welcomed in the holiday season with the annual December Nights celebration at Balboa Park. While current global health conditions will prevent the event from taking place in its usual form, the City of San Diego is offering a "Taste of December Nights." The program will have some of your favorite food vendors and food trucks from past December Nights in a drive-thru setting at the Inspiration Point parking lot near Balboa Park."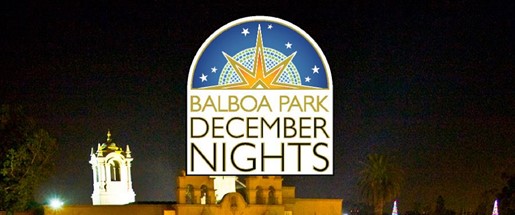 When: December 4-25, 2021
Where: 3190 Mission Blvd, San Diego, CA 92109
Website: https://www.belmontpark.com/winterwonder-2/
On weekends in December, our 95-year-old beachside park will offer a day-and-night experience, featuring a holiday toy drive, 15-foot-tall holiday-themed sculptures, other winter-themed activities, and entertainment,; plus Illuminated Winter Nights when the sun goes down.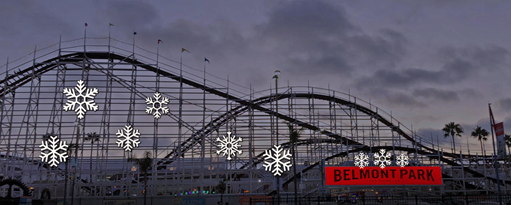 When: December 4-30, 2021
Where: 300 Quail Gardens Dr, Encinitas, CA 92024
Website: https://sdbgarden.org/botanic-wonderland.htm
Botanic Wonderland is an outdoor holiday lighting experience, where visitors can safely stroll amidst festive holiday lights throughout various areas within San Diego Botanic Garden's 37 acres on select days in December.
When: December 10, 2021 - January 2, 2022
Where: 2920 Zoo Dr, San Diego, CA 92101
Website: https://zoo.sandiegozoo.org/
Familiar holiday traditions take on a wild twist at the Zoo's Jungle Bells celebration. The Zoo will be aglow with holiday cheer and decorations, with music filling the air, joyful roaming entertainers, and special food items and sweets available. During Jungle Bells festivities, the Zoo will close at 8 p.m.
Festivals and Activities
When: December 11, 2021
Where: 14134 Midland Rd, Poway, CA 92064
Time: 3:30-8:30pm
Website: https://www.poway.org/Calendar.aspx?EID=1330&month=12&year=2019&day=14&calType=0
Celebrate holiday cheer with Poway's Christmas in the Park. The event features a tree lighting ceremony, visits from Santa, train rides, live music, theatre performances, food, treats, crafts, and more.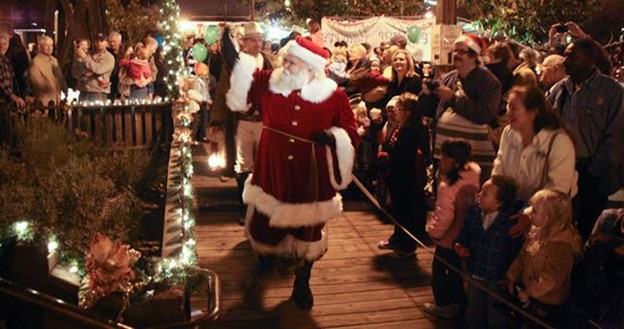 Parades
When: December 11, 2021
Where: Oceanside Harbor, Oceanside, CA 92054
Time: 7:00-9:00pm
Website: https://visitoceanside.org/events/parade-of-lights/
Watch the season sail by at the Oceanside Harbor Parade of Lights in December. The popular parade circles the harbor and features a wide variety of boats, brightly decorated for the holiday season.
When: December 12 & 19, 2021
Where: 1250 Rosecrans St, San Diego, CA 92106
Time: 5:30pm
Website: https://sdparadeoflights.org/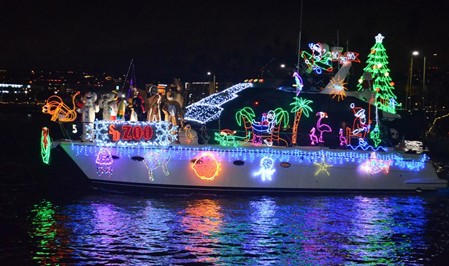 When: December 19, 2021
Where: 702 Market St, San Diego, CA 92101
Time: 1:00-5:00pm
Website: https://www.gaslamp.org/events/
This holiday parade presents cute dogs and their amazing owners parading in colorful fashion as they proudly promenade through the heart and soul of the Gaslamp for all the onlookers to see!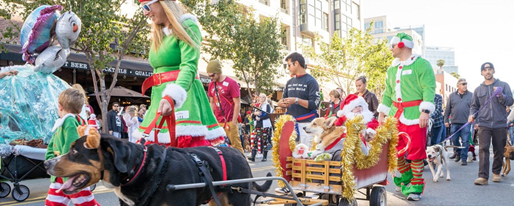 When: December 28, 2021
Where: 1600 Pacific Hwy, San Diego, CA 92101
Time: 10:00am
Website: https://www.holidaybowl.com/holiday-bowl-parade-and-5k/holiday-bowl-parade/
Gaze up at the massive balloons during the Port of San Diego Holiday Bowl Parade, the country's largest balloon parade. Floats, balloons, and marching bands are just some of the offerings in this colorful holiday parade along San Diego Bay in downtown San Diego.
In addition to events around San Diego County, many Choose Well Member facilities and older adult-serving agencies host holiday activities for clients, family, and friends.
Virtual Events
LA JOLLA PLAYHOUSE PRESENTS: A CHRISTMAS CAROL ONLINE
When: Now until January 3, 2022
Where: Online
Time: Streaming available at any time
Website: https://lajollaplayhouse.org/show/a-christmas-carol/
"Experience A Christmas Carol unlike any other—past, present or future. The timeless tale of Ebenezer Scrooge comes to thrilling new life as Tony Award® winner Jefferson Mays (I Am My Own Wife, Gentleman's Guide…) plays over 50 roles in a virtuosic, master class of a performance that must be seen to be believed. This theatrical achievement comes from the haunting vision of one of Broadway's most imaginative directors, Michael Arden (Tony-winning Best Revival – Once on this Island)."
DR. SEUSS'S HOW THE GRINCH STOLE CHRISTMAS! ON THE RADIO
When: December 5, 20, and 24, 2021
Where: KPBS Radio 89.5 FM, website, and app
Time: 12:00 noon on the 5th and 20th, 6:00pm on the 24th
Website: https://www.theoldglobe.org/pdp/20-21-season/dr.-seusss-how-the-grinch-stole-christmas-on-the-radio/
Dr. Seuss's How the Grinch Stole Christmas! On the Radio is a wonderful, whimsical musical based upon the classic Dr. Seuss book. The family favorite features the songs "Santa for a Day," "You're a Mean One, Mr. Grinch," and "Welcome, Christmas (Fah Who Doraze)," the delightful carol from the popular animated version of How the Grinch Stole Christmas! Celebrate the holidays with the Whos and The Old Globe. The audio-only Grinch production is directed by James Vásquez, with book and lyrics by Timothy Mason and music by Mel Marvin.
When: December 8, 2021
Where: Online
Time: 6:00-8:00pm
Website: https://local.aarp.org/aarp-event/aarp-ca-agefriendly-film-festival-san-diego-ca-1282021-9nn687wq9rd.html
Join the Media Arts Center for a special virtual screening of the feature short films of the Age-Friendly Film Festival. The inaugural Age-Friendly Film Festival is the result of a four-month fellowship that provided student participants with a cash stipend, filmmaker training, and mentorship to produce short films highlighting local efforts to build age-friendly communities where people of all ages can be healthy and thrive.
Choose Well Member Event
MOTOR MINGLE, TAKE 2!
When: December 2, 2021
Where: 1420 East Palomar St, Chula Vista, CA 91913
Time: 4:30-6:30pm
Website: https://www.stpaulseniors.org/event/motor-mingle-take-2/
Come and enjoy holiday fun, music by Serenity Singers, Santa, Mrs. Claus, opportunity drawings, tasty tamales, and champurrado! Donate a new blanket for St. Paul seniors in our PACE program. A fun time for a great cause!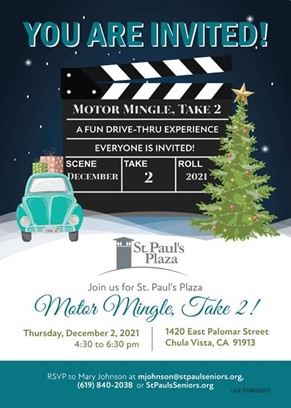 Follow the Choose Well Facebook page at www.facebook.com/ChoosewellSD/ to find out more about upcoming events. You can also contact us at info@choosewellsandiego.org to promote your RCFE holiday events on the Choose Well Facebook page and newsletter.
Sources:
https://www.sandiego.org/campaigns/winter-holiday-in-san-diego/holiday-attractions.aspx