Posted: November 30, 2021
Working in the Assisted Living Field: A Filipino Perspective
San Diego is home to the fifth-largest population of Filipinos living in the United States1. In addition to the United States Navy, many Filipinos in San Diego work in health-related fields2. With Filipino Heritage Month just celebrated in October, a Filipino-American property manager of an assisted living facility in San Diego shares her culture and experience, and how it has shaped running her RCFE.
Anafe Rivera, who also goes by Ana, is a Property Manager and co-owner of Solaris and Gate Manor senior living facilities. Her residential care facilities for the elderly consist of two small communities in Poway with a capacity of 30 and 18 residents. Solaris and Gate Manor also specialize in memory care and can accept residents living with Alzheimer's disease. Three of her current residents are Filipino retired Navy veterans. She staffs two live-in caretakers, who are also of Filipino descent.
When asked why she thought many Filipinos are in the RCFE industry, Ana answered that she believes it is because of the Filipino nature to respect and care for their elders. Filipinos are also very family-oriented, so taking care of people is very natural and fulfilling. "My heart belongs to the elderly," Ana says. She explains how she started out as a caregiver, whose job can be incredibly taxing physically and mentally; so only people who truly find meaning in taking care of older adults can be successful in the field. Ana recalls her time traveling to work as a caregiver in Beverly Hills and Palm Springs, often not returning home to her family for two weeks at a time. Ana stated that her immense care and love for older adults is what helped her cope with the extended travel and difficulties of the job.
At Solaris and Gate Manor, staff are English-speaking, and residents are served typical American meals. Although caregivers are bilingual, Ana prefers English to be the primary language spoken in the community to maintain inclusivity for residents and guests who do not speak Tagalog. At the same time, residents have the option to request Filipino meals when they desire and have conversations in Tagalog with staff so long as there are no other residents around. This allows all residents to feel as comfortable as possible living in their homes.
When Ana transitioned from being a caregiver to a property manager and co-owner of Solaris and Gate Manor, she admitted the first year was incredibly difficult because she had to figure out how to run a business. Learning about licensing requirements, and fears of getting a citation consumed Ana's thoughts in the first year of her new position (a citation is a violation of strict rules governing the operation of board and care facilities and can come with fines). Eventually, she gained the confidence and became more at ease as she learned through her experiences in managing the facilities and being in the field, directly working with staff and residents. Now, Ana is a seasoned professional, administering multiple homes.
Through all her years in the older adult care field, Ana's best advice to those looking to become administrators or managers is to take good care of caregivers. Consequently, taking care of people is fulfilling for Filipinos, which is why many Filipinos feel comfortable in the assisted living field in many capacities. Oftentimes, the caregivers are too busy caring for others that they forget to care for themselves. That is why it is up to the managers to be sure caregivers are treated well, something that Filipinos do naturally. "Without the caregivers, you cannot run a business," says Ana. Channeling the Filipino cultural tradition of caring for others—and extending that care to workers—is something that benefits RCFE owners and caregivers of all backgrounds.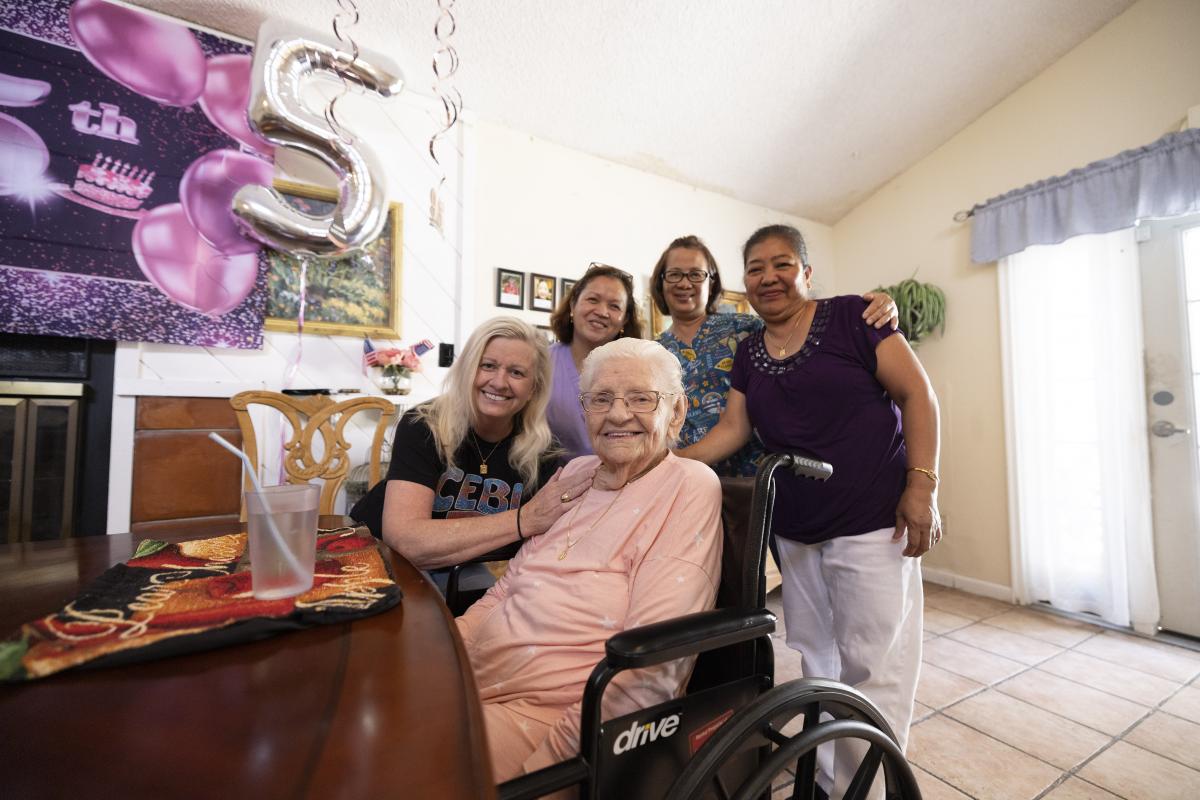 Resident Jayne Thornberry celebrating her birthday at Gate Manor Communities
Sources:
https://www.pewresearch.org/social-trends/chart/top-10-u-s-metropolitan-areas-by-filipino-population/