Posted: January 24, 2022
Service Dogs for Older Adults
The aging population faces diverse health challenges such as decreased mobility, leading to dependence on available caregivers, and increasing social isolation and loneliness. While caretakers and health professionals can tend to many of the needs of older adults, there are other options that can help them maintain their independence as they age. One alternative is the use of service dogs as a companion for managing health symptoms and other health benefits. This article focuses on service dogs and associated financial assistance programs available for older adults.
Service dogs are trained to perform tasks and assist people with physical, mental, or emotional disabilities. Tasks performed by service dogs must be directly related to the person's disability. The Americans with Disabilities Act (ADA) further states that, "service animals are working animals, not pets. Dogs whose sole function is to provide comfort or emotional support do not qualify as service animals under the ADA2." Examples of service dogs' specialized tasks include calming a person with Post Traumatic Stress Disorder (PTSD) or reminding someone with mental illness to take prescribed medications. Due to the highly specialized and long training required, it is difficult to train one's existing pet to become a service animal.
Service dogs alleviate the burden of their owner's disabilities and challenges. Service dogs are especially beneficial to older adults by also assisting with the activities of daily living (ADLs). The most common types1 of service dogs for older adults include:
Guide dog: A dog trained and certified by a licensed guide dog trainer for use by a blind person to assist with vision and sight needs. These dogs help older adults by providing physical assistance with moving, retrieving items, and warning owners of danger.
Signal dog: A dog trained to alert a deaf person or someone hearing impaired to intruders or sounds. Signal dogs help older adults by alerting them when the phone or doorbell rings, or when something falls down. These dogs use their paws and make physical contact with their owners for communication, since barking is not effective with the hearing impaired.
Service dog: A dog trained to meet a physically disabled individual's needs, which may include minimal protection work, rescue work, pulling a wheelchair, or fetching dropped items. For older adults, mobility assistance dogs can open doors, retrieve hard-to-reach items, and get help for their owners who have fallen.
Other types of service dogs beneficial to older adults include medical alert dogs and psychiatric service dogs. Medical alert dogs can detect the onset of a health issue, like an owner's physical response to low blood sugar or warn about the presence of allergens. Psychiatric service dogs can help older adults with disabilities such as schizophrenia or other conditions, and can assist by turning on a light in a dark room to mitigate stress or intervene in repetitive behaviors3.
Due to the important assistance service dogs provide, these animals are granted protections by law2. These protections are related to where someone can and cannot go with a service dog, in addition to what people can and cannot ask about someone's health condition. Under the ADA, service dogs are able to accompany people with disabilities in all areas of a public facility. These facilities include local governments, businesses, nonprofit organizations, hospitals, and even taxis2,4.
In order to be eligible for a service dog, the owner must meet certain criteria1. The first criterion is having a physical and/or mental disability that affects day-to-day life. Secondly, the owner must show that a service dog benefits their specific disability. Once these two criteria are met, the owner must attain an appropriate recommendation letter from a physician to apply for a service dog.
Due to the training necessary for specialized tasks, service dogs can be expensive. This is in addition to the typical expenses of food, grooming, and veterinary visits. For older adults who need financial assistance to obtain a service dog, the Assistance Dog Special Allowance Program (ADSA) can help eligible individuals1. ADSA provides monthly payments of $50.00 for service dogs that help with disability-related needs1. To be eligible for the ADSA program, an older adult must meet all four of the following criteria1:
California residency
Be blind, deaf or hard of hearing; or have a disability
Use the services of a trained service dog
Receive benefits from one or more of the programs below

Supplemental Security Income (SSI) or State Supplementary Payment (SSP)
In-Home Supportive Services (IHSS)
Social Security Disability Insurance (SSDI)
Cash Assistance Program for Immigrants (CAPI)
For more information on how to apply for the ADSA program, visit https://www.cdss.ca.gov/assistance-dogs
Service dogs can help older adults in many ways and cater to each individual's specific needs. Whether it is pulling a wheelchair or getting help after a fall, service dogs provide much needed assistance that allow aging adults to live more independently. The independence gained through the assistance and companionship of service dogs can also help combat feelings of social isolation and loneliness experienced by older adults. It is evident that these health benefits show how service dogs help aging individuals increase fitness, lower stress, and improve happiness.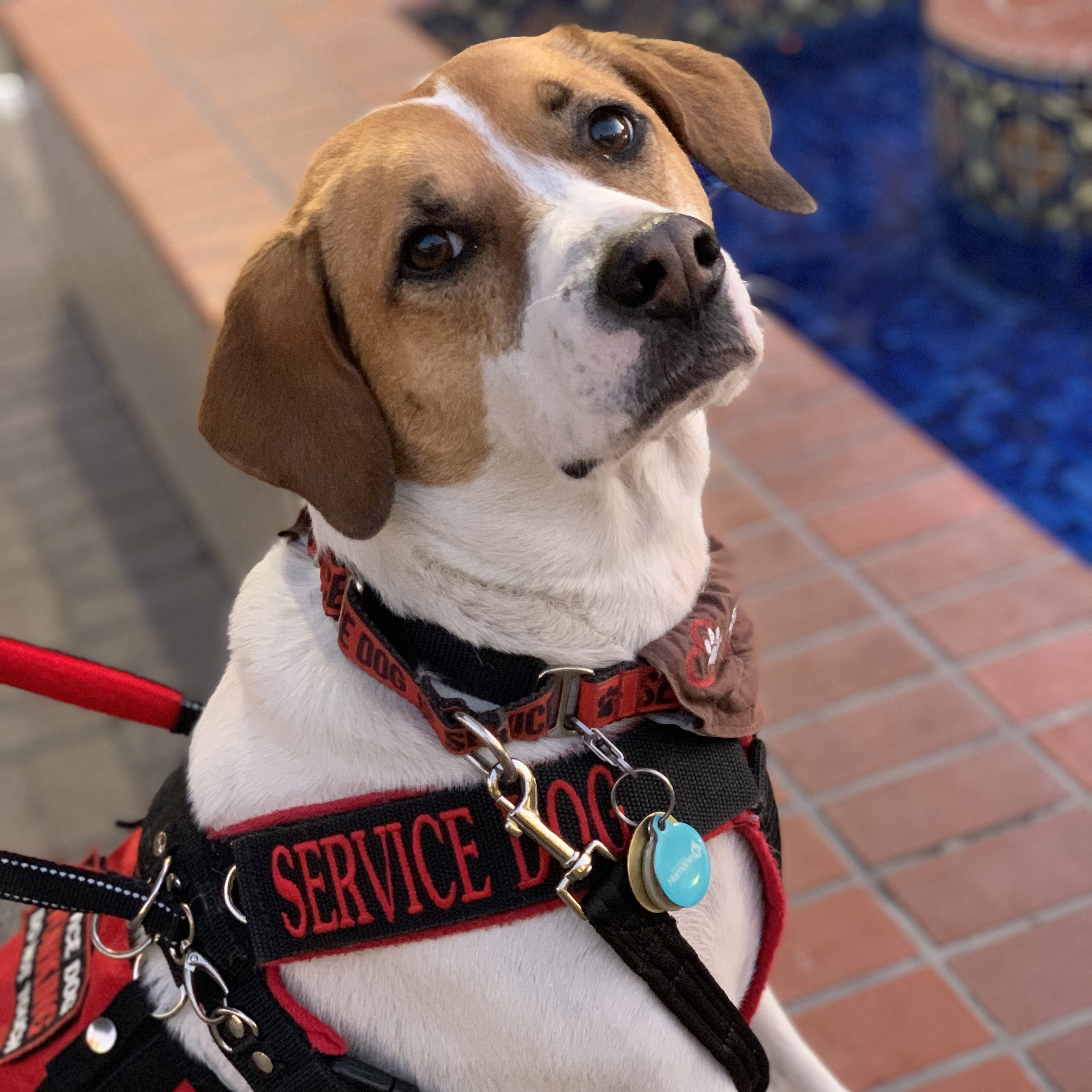 "Hi, my name is Mary Jean and Sadie is my service dog. She has played a major part in giving me a better quality of life. I have been disabled since 2000 and she came into my life in 2015. But it wasn't until 2017 when I learned the benefits of what a service dog could do for me, and that Sadie would be a perfect fit. My dear friends and dog trainers at Lifetime Dog Training, helped us by giving me the tools I needed to train Sadie to do tasks that assist me with everyday living. She also has learned how to behave appropriately in public places and stay focused. Service dogs can play a vital role for people with disabilities and are trained to help with day-to-day tasks or other specialty tasks for certain medical conditions. I am so thankful to have Sadie in my life!"
Sources: