Posted: January 28, 2021
A Look Behind the San Diego Air & Space Museum
While nearly all institutions in Balboa Park are closed now, Choose Well was able to get an exclusive interview with a docent, informally known as a museum tour guide, from the San Diego Air & Space Museum, and he has many stories to tell.
Meet Bob Odelson, a seventy-year-old retiree who has volunteered at the museum for almost four years and is currently the Vice Chairman of Volunteers & Docents. Bob is one of over thirty docent volunteers, mostly over the age of sixty-five, who until the recent mandatory closure of museums, were able to stroll through the exhibits of the San Diego Air & Space Museum and engage curious visitors in conversation. According to Bob, "I think a lot of older people gravitate to [volunteering in] museums because it serves a significant purpose, and it also keeps your mind and body busy. It's not a lot of walking, but it's a lot of talking. People who don't like to talk, don't stay." Guests assume that Bob was a military pilot before he landed his gig at the museum based on his deep knowledge of every aircraft on display. Surprisingly, Bob is a retired Clinical Systems Engineer from Kaiser Permanente, and installed imaging equipment at the hospital until 2017. He has no military nor professional aviation experience. Bob considers himself an "aviation enthusiast." In fact, the docents who volunteer are a diverse mix of old school military pilots and non-pilots from different professions.
The diverse backgrounds of museum docents help the museum tell history from different perspectives. Bob, for example, was able to utilize communication skills used in his former job to help improve the museum's ability to reach older adults. Many of the museum's docents did not even know if they had an email address, so trying to coordinate events with them was often challenging. Bob worked with the museum's marketing staff to include all important announcements in newsletters normally mailed to employees, and had it mailed to the docents as well. The reception was fantastic, and Bob says docents tell him they now look forward to getting the newsletter regularly.
Still, snail mail has limitations, especially for a museum looking to adapt to stay relevant to a younger generation. The museum has embraced the use of technology as a matter of practicality to draw more staff and visitors. Most of the older restoration crew that had the talent and skill to reconstruct aircraft parts with vintage tools, such as a metal lathe that turns a solid block of aluminum into a precision component, have passed on. Last year, the museum hired an aeronautical engineering team from San Diego State University to create aircraft parts out of plastic using a 3D printer, and then paint them to look like metal. The museum is also keenly interested in getting a younger audience interested in aviation, and that means installing more hands on, interactive exhibits. The museum has cockpit simulators for kids to experience flying a warbird or docking a space shuttle. The curator is looking to expand the museum's offerings of realistic cockpit simulators that kids can climb in to pull levers and push buttons.
Bob and his fellow docents have also welcomed many celebrities and local leaders, like former City of San Diego Mayor Kevin Faulconer, who was present when all three of the Apollo IX crew visited the museum in 2019 for the 50th Anniversary of the mission. "He was really jazzed about seeing the astronauts, and I've never seen a man so giddy and happy," Bob exclaimed. Former astronauts have also passed through the Air & Space museum's doors as regular guests. One such famous guest, Tom Jones, a former space shuttle astronaut who preferred to keep a low profile, politely declined Bob's docent tour of the space exhibit, simply saying he was "familiar" with how it worked. "For someone who has been in space three times, he was quite down to earth," Bob said.
After the pandemic hit, museums had to find different ways, often using technology, to engage with people who could no longer visit, especially older adults and those living with cognitive conditions who are most at risk of social isolation. Four museums in Balboa Park are hosting monthly, virtual, docent-led tours designed for older adults with memory disorders. Caregivers in assisted living communities can register themselves and their residents to participate in an interactive, live Zoom tour facilitated by docents trained by the UCSD Shiley-Marcos Alzheimer's and Dementia Research Center.
For communities that offer WiFi to their residents, older adults can stay engaged in virtual events designed for them. Residents can use their own tablet computer, such as an iPad or Android device, to participate. Seeing well known local landmarks, such as museums, even if it is through a digital touch screen, can help older adults feel connected to the San Diego community. The Air & Space Museum recently introduced a robot called BEAM, complete with wheels, a camera, and microphone, that enables visitors to "walk" around the museum exhibits with a docent. The San Diego Museum of Art offers a free "SDMA 360" gallery tour, allowing anyone with a computer or tablet device to use their fingers to "walk" around the museum's two floors, zoom in to see art details, and even read full labels in both English and Spanish. For assisted living communities that can connect their residents with technology, even if it is a borrowed iPad, the museums in Balboa Park offer virtual programming that can keep residents engaged and safe at the same time.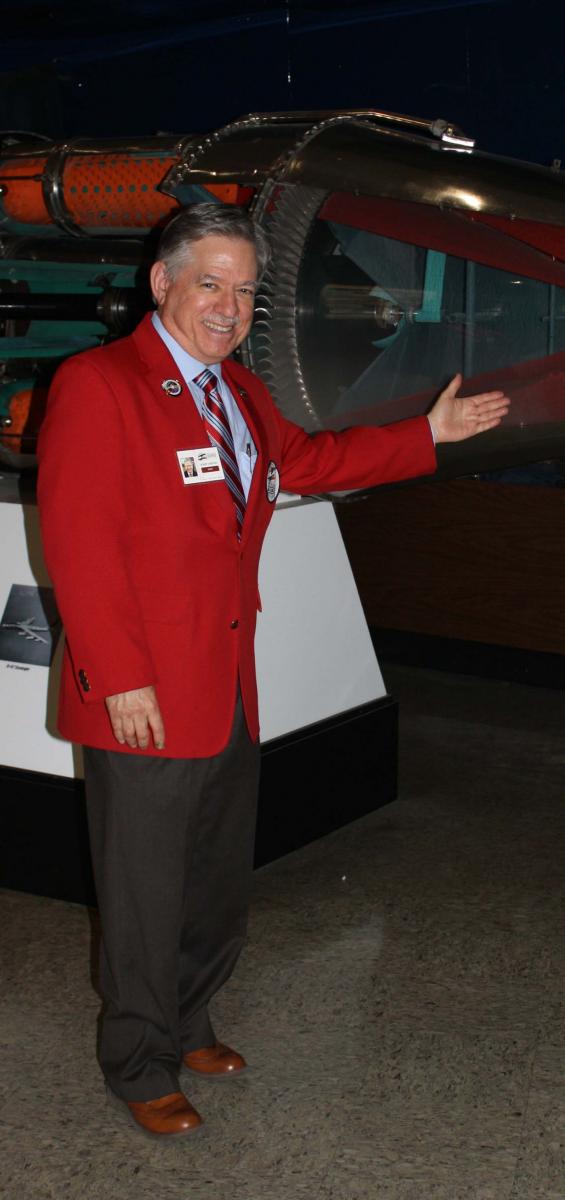 Above: Bob Odelson standing in front of a jet engine model next to an F-18.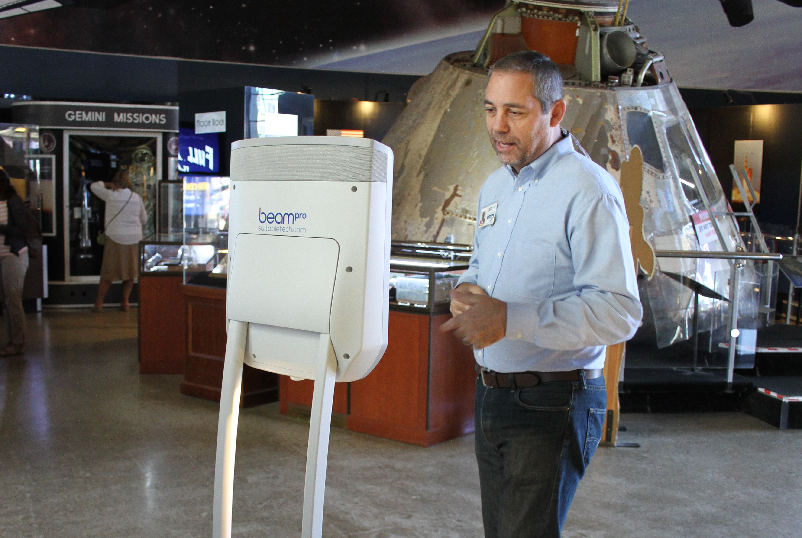 Above: BEAM Virtual Tour at the San Diego Air & Space Museum
Related Resources:
UCSD Shiley-Marcos Alzheimer's Disease Research Center, in collaboration with Alzheimer's Association, provides free, Live Zoom docent led interactive tours for participants with memory disorders and their care partners at four exceptional museums in Balboa Park at 2:00pm – 3:00pm on the first Tuesday of every Month. Pre-registration required here: https://www.eventbrite.com/o/shiley-marcos-alzheimers-disease-research-center-31365148833
Upcoming virtual events at the San Diego Air & Space Museum: https://sandiegoairandspace.org/calendar
San Diego Air & Space Museum BEAM Tour Program. Tickets can be purchased here:
https://sandiegoairandspace.org/visit/beam-tour-program
Virtual Events at San Diego Museum of Art:
https://www.sdmart.org/virtual-sdma/