What Rating Scores Mean
This RCFE Rating System (RRS) was created for the County of San Diego, Aging and Independence Services, at the direction of the San Diego County Board of Supervisors. The purpose of the rating system and associated website is ​to help seniors, their families and caregivers, fiduciaries, conservators and other related professions distinguish quality providers of assisted living services from substandard providers. All of the facilities who are rated on this website have volunteered to participate in this County resource. Their willingness to provide their state compliance histories and populate a facility profile page with the important information families require demonstrates their commitment to the San Diego community.
The RRS website hosts a rating system that gives each participating RCFE an Overall Score. This Overall Score is demonstrated through a numerical value and an associated icon.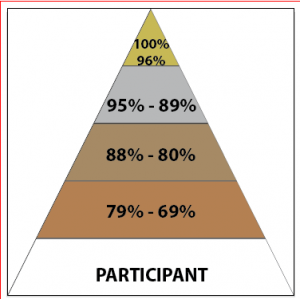 The way the PILOT RCFE Rating System (RRS) works is the higher the Overall Score of a facility (on a 1 - 100 scale), the better the facility scored on the RRS components. The RRS has 3 components:
The Public Records Score is based on the deficiencies, or absence of deficiencies, found in the public records that are maintained by the state agency who licenses and inspects assisted living facilities (California's Department of Social Services, Community Care Licensing Division). The Public Records Score accounts for 80% of the Overall Score;
The Customer Satisfaction Score is based on the average of all Customer Satisfaction Surveys received by a facility. The Customer Satisfaction Score accounts for 10% of the Overall Score; and
The Peer Review Team Score is based on an annual Peer Review Team Survey. The Peer Review Team Score accounts for the remaining 10% of the Overall Score.
To learn more about the RRS rating methods, please click here.
RRS is an Indicator:
No rating system can address or measure all of the important considerations that go into a decision about which assisted living community may be best for you or your loved one. A facility rating is but one indicator. We strongly recommend you incorporate other methods of learning about the facilities you are considering such as taking a tour, enjoying a meal at the facility, discussing your loved one's needs with the facility Administrator, and/or asking the Administrator for references so you can talk to other families about their experiences in the facility.
Other considerations that may factor into your decision include affordability, how close the facility is to you so you can visit frequently, the cleanliness and general feel of the facility, and/or any specialty care provided.
RRS is in the development stage, and will undergo additional refinements over time to improve the rating system.